This is a sponsored post written by me on behalf of Blue Bunny Ice Cream for IZEA. All opinions are 100% mine.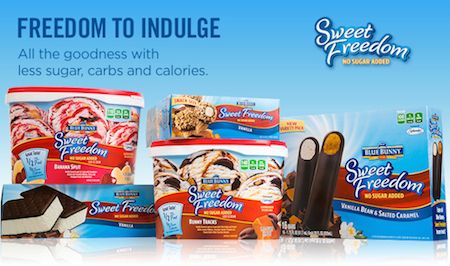 Blue Bunny Sweet Freedom No Sugar Added Ice Cream!
I have told you before about how I was diagnosed with Type II Diabetes and how I lost the weight and no longer have it.  But, I watch my diet very closely.  I do very little carbs and Hubby and I now are sugar free – as in no sugar added.  We don't eat foods that have sugar added to them.
So, I cannot tell you how excited we were when we found out that Blue Bunny® has this great line of No Sugar Added Ice Cream called Blue Bunny® Sweet Freedom Sugar Free Ice Cream!  But, wait!  It tastes – AWESOME!  No lie!  I love it!  The selection varies from Snack Size Cones, Ice Cream Sandwiches to Butter Pecan Ice Cream. 
I also LOVE that when the grandkids come over I can offer them ice cream with no worries about it having sugar (added sugar) in it!  They love it, too!  They always ask for it when they come over.  
When I lost the weight and was watching what I ate, I didn't even look at the ice cream aisle, at all!  I was shocked when they contacted me and wanted me to share it with my readers.  I had no idea this even existed, but, I am so happy they reached out to me!
Since October is National Diabetes Month, it's the perfect time to share this info!  If you are or know of someone who is a Diabetic or who is sugar free, be sure to tell them about this line of ice cream so they can try it, I promise they will love it.  Even if you're not sugar free or a Diabetic it's a great guilt free treat!
You can find more info on their products on their Pinterest page or by following them on Facebook